This is an archived article and the information in the article may be outdated. Please look at the time stamp on the story to see when it was last updated.
A Los Angeles County jury has awarded $10 million to the family of an Upland woman whose 2006 Toyota Camry accelerated out of control and crashed, killing her.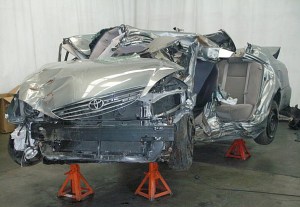 But in an unexpected twist, the verdict came entirely against a woman, Olga Belo, who crashed into the Toyota, setting off the accident. Toyota was absolved of any responsibility by the jury.
"To get a $10-million verdict for a 66-year old woman … is a great verdict," said Garo Mardirossian, attorney for the family of Noriko Uno, who died at the wheel in August 2009. "It was a win, win, win."
The surprise verdict puts an end to the first major trial against the Japanese automaker over allegations that its vehicles suffered from dangerous unintended acceleration. It marks a victory for the automaker, which has spent years and billions of dollars defending itself and still faces scores of lawsuits over the issue.
Click here to read the full story at latimes.com.