This is an archived article and the information in the article may be outdated. Please look at the time stamp on the story to see when it was last updated.
BELL, Calif. (KTLA) — Jury deliberations continue on Tuesday in the corruption trial of six former Bell city officials.
Jurors spent their first full day in the jury room on Monday, after four weeks of testimony, and already there were signs of trouble.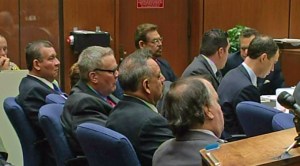 The so-called "Bell 6," the former mayor and five former City Council members, are accused of misappropriation of taxpayer dollars.
Among other things, they are accused of paying themselves huge salaries for jobs that required little or no work.
The defense maintains that the former city leaders were hard workers, who were misled by former city attorney Robert Rizzo.
Rizzo and the former assistant city administrative officer Angela Spaccia will be tried later this year.
But on Monday, after just hours of deliberations, the judge in the case got a note from the jury room.
A woman in her 60s said her fellow jurors were not happy with her and were giving her "the evil eye."
Judge Kathleen Kennedy essentially responded that the jurors do not have to like each other, and should just go back to work.
Kennedy told that juror that if the problems persist, she should send her another note and they will address the matter.
Lynette Romero reporting