This is an archived article and the information in the article may be outdated. Please look at the time stamp on the story to see when it was last updated.
CALABASAS, Calif. (KTLA) — Authorities were investigating another reckless driving claim against Justin Bieber on Tuesday after being called to his home in Calabasas over the weekend.
The incident involved another famous face, former USC All-American wide receiver and No. 1 NFL draft pick Keyshawn Johnson, who also lives in "The Oaks" neighborhood.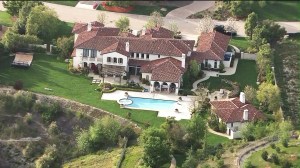 Johnson told KTLA that he was driving with his daughter in the car on Sunday when Bieber zoomed past them in his Ferrari.
"He was goin' at least 90. You could hear the roar of the engine," Johnson said.
"He treats our streets like it's the Indy 500. I thought, 'That's it with this kid, it's enough,'" he said.
Johnson dropped off his daughter and followed Bieber back to his house in his Prius.
"When I confronted him him his garage, he tried to say one of his buddies was driving the car, not him, that they switched seats," Johnson said.
"I'm 6-4, 240. He's 5-10, 150 whatever. He looked at me and ran back into his house like a wet puppy," he said.
"There are families with kids playing outside in our neighborhood. It's reckless and dangeorus," Johnson said.
"I talked to the sheriffs and they say they're tired of him and his entitled behavior. The kid is going to kill someone," he said.
Deputies responded and interviewed Johnson, but Bieber declined to talk, said Steve Whitmore, spokesman for the L.A. County Sheriff's Department.
"Based on the witness accounts, we are putting together a police report that focuses on a misdemeanor reckless driving," Whitmore said.
This was the second time in the past few months that Bieber has been accused of reckless driving.
Prosecutors were still investigating an incident back in March where Bieber allegedly spit on a neighbor who confronted him about his driving.