This is an archived article and the information in the article may be outdated. Please look at the time stamp on the story to see when it was last updated.
HOLLYWOOD, Calif. (KTLA) — Pop star Justin Bieber was cleared of any suspicion of hit and run on Tuesday after he struck a paparazzo in Hollywood, police said.
The incident happened around 11:45 p.m. on Monday as Bieber, 19, was leaving the Laugh Factory, according to TMZ.
The singer and rapper Lil Twist were being photographed outside the comedy club, located at 8001 Sunset Blvd.
Bieber got behind the wheel of his white Ferrari and motioned to clear the paparazzi out of the way, TMZ reported.
But when he drove off, he appeared to pin one man between his vehicle and a parked car. Bieber did not stop.
LAPD officers responded to the club, but a preliminary investigation revealed that no crime was committed, police said.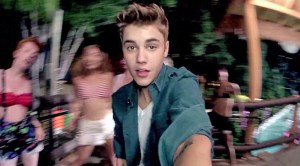 Bieber reportedly told police that he did not realize he had hit anyone.
The photographer sustained some injuries, but they were not serious.
This wasn't the first time that Bieber has had driving troubles.
Neighbors in Calabasas have complained about the singer speeding around his gated community.
In late May, NFL star Keyshawn Johnson said he chased down Bieber after seeing him speed by in his Ferrari.
When he confronted Bieber, the pop star said that it was a friend who was behind the wheel, Johnson said.
Deputies responded and interviewed Johnson, but Bieber declined to talk, according to the Los Angeles County Sheriff's Department.
Prosecutors were still investigating an incident from March where Bieber allegedly spit on a neighbor who confronted him about his driving.
Bieber was also involved in a high-speed chase with the paparazzi on an L.A. freeway last July.
And in November, he was cited for making an unsafe left turn and having expired registration.
More seriously, a paparazzo was killed on New Year's Day when he was hit by a car while trying to photograph Bieber's Ferrari. The singer was not present at the time.