This is an archived article and the information in the article may be outdated. Please look at the time stamp on the story to see when it was last updated.
SACRAMENTO, Calif. — California Atty. Gen. Kamala Harris urged the U.S. 9th Circuit Court of Appeals on Wednesday to lift its stay and allow same-sex marriages to resume immediately.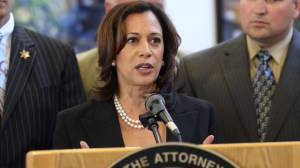 Wednesday's order by the Supreme Court instructs the 9th Circuit to lift its stay on the original ruling in 2010 by U.S. District Judge Vaughn R. Walker that found California's controversial Proposition 8 was unconstitutional.
The appellate court put a hold on Walker's decision pending the resolution of the legal fight.
The Supreme Court decision paved the way for gay marriages to resume in California, ruling the private sponsors of Proposition 8 did not have legal standing to appeal after the ballot measure was struck down by a federal judge in San Francisco.
Click here to read the full story on LATimes.com.