This is an archived article and the information in the article may be outdated. Please look at the time stamp on the story to see when it was last updated.
While some bargain-focused consumers seem to celebrate the creep of Black Friday into Thanksgiving Day, others revile it.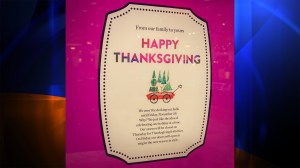 Some retailers aren't too fond of the trend either, apparently, and they're proud to buck the tide.
In recent years, more and more chain stores began opening their doors on the national holiday, bringing in workers to kick off the Christmas shopping season while some families were still sitting down to turkey dinners.
The change prompted vigorous debate, with online petitions launched in hope of persuading retailers to respect Thanksgiving — and their employees — by remaining closed.
Kmart was the focus of anger after announcing it would open at 6 a.m. Thanksgiving and remain open through Black Friday.
When Macy's this year announced its first-ever Thanksgiving Day hours, the company seemed mildly defensive about joining a group that includes Best Buy, Target, Sears, Toys "R" Us, J.C. Penney, Kohl's and Wal-Mart.
"In response to interest from customers who prefer to start their shopping early, most Macy's stores will open at 8 p.m. on Thanksgiving evening, consistent with many other retailers," the chain stated in an Oct. 14 news release. "In a move to minimize the impact on associates, Macy's began planning early to allow associates the time to review available shifts throughout the holiday season, including on Thanksgiving weekend, and to volunteer for the shifts they prefer."
Some observers of the market have said resistance to the Thanksgiving Day trend is futile, in large part because of the numbers: shoppers will come out and spend if stores are open.
Yet a few chains seem to be trumpeting their decision to stay shuttered.
This year, Nordstrom made a minor show out of its longstanding tradition of remaining closed on Thanksgiving, posting signs in it stores stating "we won't be decking our hall until Friday, November 29.
"Why? We just like the idea of celebrating one holiday at a time," signs posted in some locations read.
The upscale department store tweeted an image of a one such sign.
We won't be decking the halls until the day after #Thanksgiving. http://t.co/0JR5nfyrFT pic.twitter.com/BA2t2yEtr3

— Nordstrom (@Nordstrom) November 20, 2013
Other stores with Southern California locations that planned to remain closed on Thanksgiving were Home Depot, Costco, T.J. Maxx, Marshalls and Ross, according to USA Today.
A spokeswoman for TJX, which owns T.J. Maxx and Marshalls, told the newspaper that the company wants its workers to have holiday time with relatives.
"We feel so strongly about our employees spending Thanksgiving with their families," spokeswoman Doreen Thompson said. "And we don't anticipate this changing in the future."