This is an archived article and the information in the article may be outdated. Please look at the time stamp on the story to see when it was last updated.
KFC Corp. said it is investigating a Mississippi woman's allegation that a restaurant employee asked her 3-year-old granddaughter to leave because the girl's facial scars were making other patrons uncomfortable.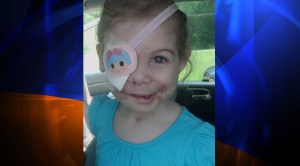 Meanwhile, the Kentucky-based corporation announced Sunday that it is donating $30,000 to help pay for Victoria Wilcher's medical care.
The young girl lost her right eye and suffered a broken jaw, broken ribs and several puncture wounds when she was attacked by three pit bulls in April, her family said.
She had been just been released from the hospital, after a month of recovery, and was restricted to only soft foods.
Her grandmother, Kelly Mullins, said she took Victoria to the fast-food restaurant for mashed potatoes and gravy. Mullins said she was feeding her granddaughter when a KFC employee came over to their table.
"She said that we'd have to leave, we were disturbing her other customers – Victoria's face was disturbing other customers," Mullins said.
Soon afterward, Victoria's family posted a photo of her on Facebook, in which she is smiling and wearing a pink eyepatch. The photo's caption read: "Does this face look scary to you?"
"I will never step foot in another KFC and will be personally writing the CEO," the post added.
The restaurant chain responded in a Facebook comment.
"Please accept our sincere apologies while we try to investigate this incident," the statement said, while asking that details about the encounter be sent to a provided email address. "We have zero tolerance for any kind of disrespectful behavior by our team members."
The company vowed to take action after receiving further information.
"We wish nothing but the best for Victoria in her recovery," the statement said.
The Facebook page, entitled "Victoria's Victories," has received 40,000 "likes" as of Sunday evening.