This is an archived article and the information in the article may be outdated. Please look at the time stamp on the story to see when it was last updated.
Thousands were expected to attend a parade on Monday celebrating the Los Angeles Kings victory over the New York Rangers in the Stanley Cup Finals.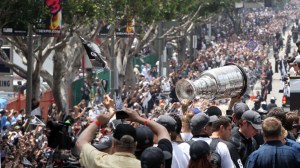 The parade was scheduled to begin around 11:45 to noon on Fifth Street and Figueroa Street in downtown L.A., according to Kings representative Jeremy Zagar.
The Kings were scheduled to arrive at Staples Center around 1:15 p.m. then rally inside the arena.
Street closures had not yet been officially announced.
The Kings defeated the Rangers 3-2 in double overtime in Game 5 on Friday.