This is an archived article and the information in the article may be outdated. Please look at the time stamp on the story to see when it was last updated.
Two newborn kittens who traveled about 130 miles inside a Cox Communications delivery truck were recovering Thursday from their unexpected journey.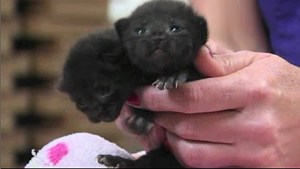 The kittens were boxed up with fiberglass and loaded into the delivery truck in Los Angeles for the trip south, according to a report by TV station KGTV.
Workers in Chula Vista said they couldn't believe their eyes when they opened the box and saw what was inside.
"When I first saw them, I knew they were very, very young," employee JC Collins told KGTV.
The workers believe the mother put her babies in what she thought was a safe place and then left, the station reported.
Somehow the kittens, known as Mouse and WiFi, got boxed up and shipped.
The kittens will remain in the nursery at the San Diego Humane Society for a few more weeks, the station reported.
When they're eight weeks old the pair will be put up for adoption.
Click here for information on adopting Mouse and WiFi.
CNN contributed to this story.