This is an archived article and the information in the article may be outdated. Please look at the time stamp on the story to see when it was last updated.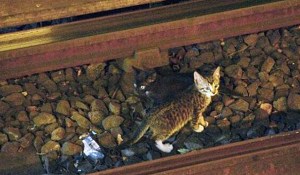 NEW YORK — Lions may be kings of the jungle, but for nearly two hours, two kittens ruled the concrete jungle as officials halted New York subway service Thursday.
The fearless felines risked all nine lives meandering the subway Thursday, causing part of it to be shut down for 90 minutes as personnel cut the power to begin their search.
The Metropolitan Transportation Authority suspended subway service on the B and Q lines between the Kings Highway and DeKalb Avenue stops in Brooklyn — about 6 miles of track — to search for two cats that were reported seen at about 11 a.m., MTA spokesman Kevin Ortiz said.
The MTA had to cut the power to the third rail, which carries 600 volts of electricity.  "If you touch that third rail, you're not going to make it — people and especially cats, anything that moves," Ortiz said.
Click here to read the full story on CNN.com.