This is an archived article and the information in the article may be outdated. Please look at the time stamp on the story to see when it was last updated.
Kraft Foods Group has voluntarily recalled some 1.2 million cases of selected cottage cheese products due to improper storage temperatures, the company announced on its website Saturday.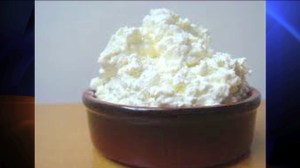 The recall involves selected Knudsen Cottage Cheese, Breakstone's Cottage Cheese, Simply Kraft Cottage Cheese and Daily Chef Cottage Cheese products, according to the release.
The company cited "products…not stored in accordance with Kraft's temperature standards" as the reason for the voluntary recall.
"While unlikely, this could create conditions that could lead to premature spoilage and/or food borne illness," the release on its website said.
It was not immediately clear if any illnesses have been reported.
Affected products all have code dates from May 9, 2014 through July 23, 2014, the company stated on its website, adding that the code date can be found either on the bottom of the cup or the top of the package. Affected Simply Kraft products that have been voluntarily recalled have a plant code of 06-245 on the bottom and a case code date without any "W."
All of the products were distributed in the United States.
Consumers who purchased any of the voluntarily recalled cottage cheeses were asked not to eat the product and to return the item to the store where it was purchased.
The recalled products all came from a manufacturing facility in Tulare, Calif., which has since ceased production and distribution of the affected products while the company addresses the problem.
Click here for a full list of the Kraft products affected by the voluntary recall.