This is an archived article and the information in the article may be outdated. Please look at the time stamp on the story to see when it was last updated.
A Murrieta resident is using the city's holiday home decorating contest to share a Christmas tradition your little ones probably didn't know about — and may not want to.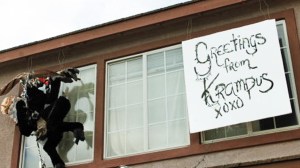 The black, devilish creature that stands on the second-story window of Stori Nagel's home has been called disgusting and disrespectful, but was meant to be educational, Nagel told Murrieta Patch.
Krampus was described as a towering, hairy creature, with a long tongue, goat's head, horns and cloven feet, according to German newsmagazine Spiegel Online.
Santa, who keeps track of who's been naughty and nice, would unleash Krampus to punish the bad children, according to the website.
Nagel told Patch she found out about the centuries-old mythological creature while researching holiday traditions of her heritage — which is German and Swiss.
"Well if you have been bad, Krampus comes to see you and hits you with a switch, and if you are real bad he kidnaps you. So it is basically like a warning: 'Be good or Krampus will come and see you,'" Nagel told Patch.
The City of Murrieta seemed to be OK with the entry. Patch reported that after considering the family's culture the decoration should be seen as "an unconventional entry to this year's contest."