This is an archived article and the information in the article may be outdated. Please look at the time stamp on the story to see when it was last updated.
The Los Angeles City Council voted unanimously Tuesday in favor of a controversial ban on the use of e-cigarettes in areas of the city where tobacco smoking is prohibited.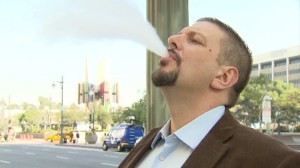 First discussed by the council in December, the ban was moved forward last week by a council committee vote. It amends city code to include e-cigarette use in the definition of "smoking" with regard to smoke-free policies in the city.
The ban means "vaping" will be prohibited in bars, restaurants, and many workplaces and public spaces.
"This is something that will ensure public safety for people who don't necessarily want to be around vapors from e-cigarettes," said Councilman Mitch O'Farrell, one of the authors of a motion to create a city ordinance banning vaping, at the time of the Feb. 24 committee vote.
The ban provides an exemption for the use of electronic smoking devices at "vaping" lounges — similar to existing exceptions for tobacco use at cigar lounges.
The council had last year approved an ordinance that made e-cigarette sales regulated like the sale of tobacco within Los Angeles.
Similar measures banning e-cigarette use have been approved in other large cities.
The "vaping" industry and other supporters of e-cigarettes have protested that research has not yet shown the effects of secondhand smoke. E-cigarettes have enabled many former smokers to quit using tobacco, vaping supporters said, noting that the ban will force electronic smokers into the same smoking areas as traditional cigarette users.
Those in favor of the ban said the use of e-cigarettes in public places normalizes smoking after decades of public health campaigns to reduce tobacco use. They said the unknown effects of secondhand smoke from vaping were reason to stop the practice in public places now.
Vapors exhaled by e-cigarette users could contain particulate matter and potentially toxic chemicals, according to Los Angeles County public health Director Jonathan Fielding, who spoke before the council.
KTLA's Christina Pascucci contributed to this article.
Correction: An earlier version of this article incorrectly stated the ban was introduced "last month." In fact, it was first requested by council members in December, then drafted by the city attorney's office in January, and approved by a council committee on Feb. 24 before going to the full council Tuesday, according to the council file.