This is an archived article and the information in the article may be outdated. Please look at the time stamp on the story to see when it was last updated.
LOS ANGELES (KTLA) — The Los Angeles City Council moved toward banning single-use plastic bags on Tuesday.
The council voted 11-1 in favor of a proposed ordinance authored by Councilman Paul Koretz.
The proposal was designed to eliminate the approximately 2 billion plastic bags given out by markets in Los Angeles each year, according to Koretz.
Councilman Bernard Parks cast the lone dissent vote.
Since the proposal failed to earn unanimous approval, the ordinance will need a second vote next week.
The outcome is unlikely to change and a signature from the mayor — whether it be Antonio Villaraigosa or his successor, Eric Garcetti — to approve the measure is expected.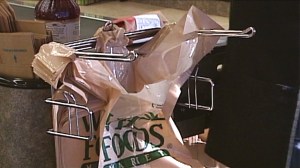 The council's Energy and Environmental Committee approved the final environmental impact report on the proposal on Monday.
The ban would go into effect in January 2014 for large stores. Smaller stores would be required to eliminate the bags starting in June 2014.
Shoppers would have to bring reusable bags or purchase paper bags at a cost of 10 cents each. The stores would keep that fee.
Los Angeles County has a similar ban in place, as do a number of surrounding cities including West Hollywood and Santa Monica.
City officials who supported the ban say it would help deal with litter and pollution problems.
But opponents argued that the litter claims were overstated, and that tens of thousands of jobs could be lost across the nation if other cities follow suit.
The American Progressive Bag Alliance called the ban a money grab by grocers, who stood to make money from selling paper bags and reusable bags.
Correction: A previous version of this article erroneously reported that the council vote was 11-2.  The council vote was 11-1.  This story has been updated to reflect that change.