This is an archived article and the information in the article may be outdated. Please look at the time stamp on the story to see when it was last updated.
The Los Angeles City Council took its first step Wednesday to explore whether beekeeping should be allowed in residential zones, asking city staff to report back on the idea.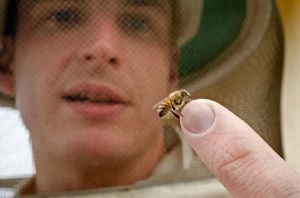 Backyard beekeepers want Los Angeles to join New York, Santa Monica and other cities that allow residents to keep hives at home. Existing Los Angeles city codes do not allow beekeeping in residential zones, according to city planning officials.
Beekeeping has nonetheless blossomed among Angelenos worried about the health of honeybees and devoted to urban farming. In a news conference Wednesday, beekeepers urged the council to pursue the report on the topic, possibly the first step toward enshrining the practice in city code.
At the news conference, City Councilman Paul Koretz argued urban beekeeping was especially needed in the face of colony collapse disorder, which has devastated agricultural hives that pollinate avocados, almonds and other crucial crops. Councilman Mike Bonin chimed in.
Click here to read the full story at LATimes.com.