This is an archived article and the information in the article may be outdated. Please look at the time stamp on the story to see when it was last updated.
The Los Angeles County Sheriff's Department has identified 15 cases in which employees who got jobs during a controversial mass hiring in 2010 went on to be disciplined for violating department rules, according to a new report by the agency.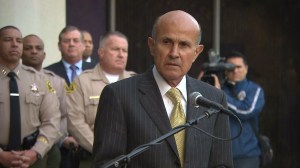 The report comes a month after The Times reported that the Sheriff's Department hired dozens of officers even though background investigators concluded that they had committed serious misconduct, including falsifying records, stealing and soliciting prostitutes.
The Times found that three of those employees faced new accusations of misconduct after joining the department — far fewer than the 15 cases identified in the new sheriff's report.
Click here to read the full story on LATimes.com.