This is an archived article and the information in the article may be outdated. Please look at the time stamp on the story to see when it was last updated.
Los Angeles Dodgers pitching great Bob Welch, who was part of three World Series championship teams during his baseball career, died at the age of 57, the team reported on Tuesday.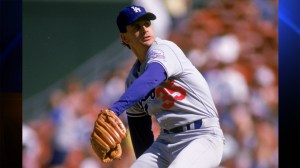 Welch died at his home Monday night after suffering a heart attack, according to a news release from the Dodgers.
"The Los Angeles Dodgers are saddened to learn of the passing of Bob Welch," Dodger President and CEO Stan Kasten stated in the release.
"He was one of the greatest competitors to wear the Dodger uniform. Dodger fans will always remember his confrontation with Yankee great Reggie Jackson in Game 2 of the 1978 World Series, when the 21-year-old rookie struck out Jackson to end the game," Kasten stated.
Welch, a first-round draft pick by the Dodgers in 1977, spent 10 seasons with the club after he was promoted to the big leagues in 1978, the release, which detailed Welch's career, stated.
The right-hander joined the Oakland A's in 1988 and pitched seven more years.
He compiled a 211-116 record with 1,969 strikeouts and a 3.47 ERA in 3,092 innings.
As a player, Welch won World Series championships with the Dodgers in 1981 and with the A's in 1989.
He won a third World Series championship as a coach with the Arizona Diamondbacks in 2001.
Welch was named to two All-Star teams and earned the American League Cy Young Award after winning 27 games for the A's in 1990.
Welch turned his attention to coaching and community work following his retirement.
He is survived by three children — Dylan, Riley and Kelly.
Funeral services were pending, according to the release.