This is an archived article and the information in the article may be outdated. Please look at the time stamp on the story to see when it was last updated.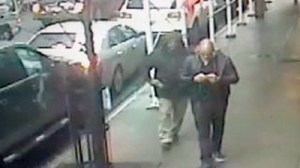 MANHATTAN, N.Y. (KTLA) –Police are investigating the brazen execution-style murder of a man from Los Angeles on a busy Manhattan street near Central Park.
It happened just before 2 p.m. Monday in front of Saint Thomas Choir School near the intersection of W. 58th St. and Seventh Ave.
The suspect walked up behind 31-year old Brandon Lincoln Woodard and shot him once in the back of the head with a silver handgun.
Woodard was rushed to Roosevelt Hospital, where he was pronounced dead.
The shooter, according to witnesses, kept walking calmly less than 100 feet to the corner, where a getaway car was waiting with a driver inside.
New York police say Woodard may have been lured into an ambush, and that the gunman had stalked him for 40 minutes before killing him.
The shooting happened in an area filled with private surveillance cameras and those operated by police.
Video shows Woodard walking down the street just after checking out of his hotel. His killer walked past him once, then came up a second time and shot him.
The suspect is described as a black male of unknown age, who was wearing a brown hoodie, a dark coat and khaki pants.
The getaway car is described as a late model silver or grey Lincoln MKZ sedan.
Woodard, a native of Los Angeles, graduated from Loyola Marymount University in 2003 and had a 4-year-old daughter named Kirsten.
"Our hearts are just very hurt right now," stepfather Rod Wellington told KTLA. "We're here trying to deal with the grief… The loss of a son, also a father."
L.A. County court records show that Woodard was convicted of grand theft, DUI and a hit-and-run involving property all in 2009.
He was convicted of petty theft in 2008 and urinating in public in 2006.
Woodard was due in court in Beverly Hills on Jan. 22 in connection with a cocaine possession charge, the L.A. District Attorney's office said. He was originally charged last June.
He had prior convictions for felony petty theft from Gelson's and Whole Foods that were reduced misdemeanors, prosecutors said.
Despite his run-ins with the law, Woodward was looking to better himself, his family said, and was studying to be a lawyer.
Rumors have been swirling that the hit on Woodard might be linked to Woodard's mother's business dealings as a mortgage executive.
The family, however, insists that is not true, and says they were not aware of any enemies or potential threats.
Now, as the NYPD and Woodard's family search for answers, the family also says they are searching for strength.
"Today it's reality setting in — a sense that Brandon is not gonna be with us anymore," Wellington said. "But we'll move on as a family."