This is an archived article and the information in the article may be outdated. Please look at the time stamp on the story to see when it was last updated.
"Running is like a metronome. It is my yardstick of health," said John Butcher, 64, an HIV-positive cancer survivor who on Sunday was among the select group of "legacy runners" who had participated in all 29 L.A. Marathons.
Butcher's father was a lieutenant colonel in the U.S. Air Force, "and my mother was even stronger than he," Butcher said. "We were raised Presbyterians, and you do not quit if you're Presbyterian."
That perseverance has served him well throughout his life — especially since Nov. 9, 1989, the day Butcher was diagnosed HIV-positive.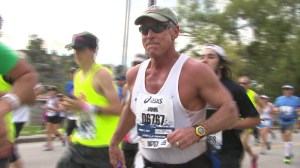 His doctor told him he had two or three years to live.
"I thought, right then, I was going to die soon. And I had to figure out how to do it, so that my father wouldn't be embarrassed by a son who died of AIDS," Butcher said.
He privately experienced what he described as "a small breakdown." But he vowed not to surrender to his diagnosis.
"I kept running, kept doing marathons," he said. "The rushing of blood through my body helped me keep the HIV at bay until the medications came out in 1996."
Then, one week after the 2010 L.A. Marathon, Butcher was diagnosed with cancer.
Chemotherapy "was devastating to my body, and the radiation hurt," he said. He could barely walk his dog, Molly, who is his ever-present running partner.
But he decided that if he could overcome his HIV diagnosis, he could beat cancer as well. Confounding his doctors' expectations, he went on to run the 2011 L.A. Marathon.
Yet another hurdle was still in front of him, however.
Last November, "I took a piece of glass in my ankle and it shredded the tibial nerve," Butcher said. "It left my foot with no feeling. It was like walking on a piece of wood."
Surgery had little impact. But three weeks after he started running again, his muscle memory helped him run up to 10 miles at a time.
"I would be dead if I hadn't run," he said. "Some doctors think that's helped me get through it. I've never been sick once — unlike many of my good friends."
After continuing to run despite his diagnoses, Butcher has a message for people who are sick or dealing with difficulties: "Don't surrender to stuff. Don't let anybody tell you you can't do something."
"There's really nothing like finishing a marathon, especially if you do well," he added. "And right now, doing well is just finishing."
On Sunday morning, he was on his way to doing just that.
As Butcher moved at a brisk pace along the marathon route, a reporter ran alongside and asked him how he felt.
"It's going well, so far. We'll know more after 14 miles," Butcher responded. "That's as far as I've run on this dead foot. After that, it's all new territory."