This is an archived article and the information in the article may be outdated. Please look at the time stamp on the story to see when it was last updated.
As the 29th Asics L.A. Marathon got underway Sunday morning, Mayor Eric Garcetti said the Los Angeles Police Department and other law-enforcement agencies had taken steps to ensure the safety of runners and spectators.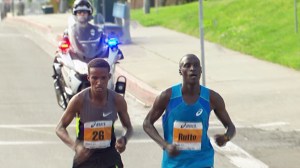 The event was the first such race to be held in Los Angeles since the Boston Marathon bombings in April 2013, when three people were killed and more than 200 were injured.
Garcetti said the heightened security at this year's L.A. Marathon was a reflection of "the changed world."
"We've put all the resources in to make sure that this is a safe event for everybody," he said, standing near the starting line at Dodger Stadium. "You can rest assured that people are safe here. They're going to have a great run."
Temperatures were in the mid-50s as more than 20,000 participants set out along the 26.2-mile route, according to the National Weather Service. The forecast called for a high in the low-80s in Los Angeles.
"Think about the rest of the country freezing right now," Garcetti said. "The ones that are here are smart enough to be in 70-degree weather."
West Hollywood Sheriffs and Fire Captain enjoy the #LAMarathon pic.twitter.com/nLFqfet8uW

— LASD West Hollywood (@WHDLASD) March 9, 2014