This is an archived article and the information in the article may be outdated. Please look at the time stamp on the story to see when it was last updated.
LOS ANGELES (KTLA) — Local Catholics gathered in downtown Los Angeles for an all-night prayer vigil ahead of the start of the conclave to elect a new pope.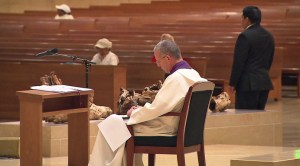 They held special prayers overnight at the Cathedral of Our Lady of the Angels, beginning at 7 p.m. Monday.
The vigil was expected to last until 7 a.m. Tuesday. It will be followed by a special Mass.
The cathedral serves the Los Angeles archdiocese of over 5 million Catholics and is the heart of all 287 parish churches.
Meantime, thousands of miles away, the 115 cardinals who will choose the new pope took part in a morning Mass on Tuesday at St. Peter's Basilica.
In the afternoon, the 115 cardinal-electors — those younger than 80 who are eligible to vote — will go to the Pauline Chapel for further prayers.
They will then walk to the Sistine Chapel, chanting prayers as they go, to begin the secret election called the conclave.
The doors will be locked behind them. The chapel has been swept for listening devices, and counter-measures are being used to prevent electronic communications from inside.
The only clue the world will have of what is happening inside will be periodic puffs of smoke from a copper chimney installed over the weekend in the Sistine Chapel.
More than a two-thirds majority will be needed to declare a winner, which equates to 77 votes. Ballots will be burned in an incinerator after each voting session.
If there is no winner, they are burned with a chemical that produces black smoke. White smoke will indicate that a new pope has been chosen.