This is an archived article and the information in the article may be outdated. Please look at the time stamp on the story to see when it was last updated.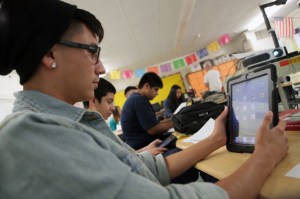 Los Angeles school officials have taken back iPads from students at Westchester and Roosevelt high schools and possibly other campuses as well until further notice, the latest fallout from student hacking of the devices.
The move is the latest complication in the early stages of a district-wide roll out that will provide an iPad to every student as part of a $1-billion technology plan.
Staff at Roosevelt in Boyle Heights and students at Westchester confirmed that the $700 tablets were taken back Friday by school officials. But a Roosevelt teacher said only about two-thirds of about 2,100 tablets were returned.
A week ago, district administrators were scrambling to respond when they learned that students skirted security measures that were intended to block free browsing of the Internet.    In interviews, students said they had been disappointed at their inability to get to social networking and music streaming sites. Their work-around involved a couple of clicks — and soon hundreds of students were reaching any website they wanted.
Click here to read the full story at LATimes.com.