This is an archived article and the information in the article may be outdated. Please look at the time stamp on the story to see when it was last updated.
A Los Angeles woman who worked for a medical billing company appeared in court Wednesday to face criminal charges alleging she stole the identities of hundreds of patients, but her arraignment was postponed.
Reon Jordan, 34, was arrested at her home and booked on suspicion of grand theft, burglary and unauthorized use of personal identifying information, according to a news release from Los Angeles County Sheriff's Department.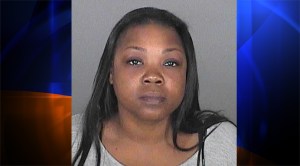 Jordan's arrest Tuesday followed a nearly nine-month investigation by detectives from the department's Community College Bureau, the release stated.
The suspect is a student at West Los Angeles College, where she has been taking classes to become a licensed medical biller, according to Capt. Mike Parker, spokesman for the Sheriff's Department. A person at the college began investigating after becoming suspicious about the way Jordan paid for at least $1,000 in classes and other school-related expenses, Parker said.
It came to light that Jordan had previously been employed since 2008 by ABEO, a national medical billing company, where she obtained access to patient identity profiles, Parker said.
She was charged with 21 counts of identity theft and three counts of multiple identifying information theft, according to the Los Angeles County District Attorney's Office. She appeared Wednesday afternoon at a downtown L.A. courthouse, where her arraignment was postponed till March 10.
Jordan's bail was set at $1.2 million at Wednesday's court hearing. She faces more than 19 years in county jail if convicted as charged.
On Wednesday morning, a handwritten sign that read "No Unauthorized Visitors" was posted on the front door of ABEO's Pasadena office. A woman who answered the door refused to speak to a reporter.
At the time of Jordan's arrest, and after multiple search warrants were served, she was found to be in possession of 400 identity profiles, as well as the complete credit card information of 200 people, detectives said. She was accused of using the credit-card information to buy hair extensions, jewelry, clothing and flights to Alaska.
To date, 23 victims have been identified in numerous locations including Los Angeles, Santa Monica, Malibu, Mammoth Lakes, Tennessee and Mississippi, Parker said. Detectives believe other potential victims have yet to be discovered.
"The best way to protect yourself in relation to identity theft is, always put a lock on your credit" by submitting a request to the three main credit-reporting bureaus — TransUnion, Equifax and Experian, said sheriff's Deputy Nikos Guskos. "There's no reason your credit should be unlocked unless you're applying for a car, a credit card or something of that nature.
"And always, monthly, look at your credit," he added. "Make sure no one's opening up an account in your name, or anything of that nature."
KTLA's John A. Moreno, Eric Spillman, Kennedy Ryan and Melissa Pamer contributed to this article.
Anyone with information was urged to contact the Los Angeles County Sheriff's Department's Community College Bureau at 323-669-7555. Those who prefer to provide information anonymously may call "Crime Stoppers" by dialing 800-222-TIPS (8477), or texting the letters TIPLA plus your tip to CRIMES (274637), or by using the website http://lacrimestoppers.org.