This is an archived article and the information in the article may be outdated. Please look at the time stamp on the story to see when it was last updated.
The Los Angeles Zoo this week announced the landmark birth of a very rare newborn animal: an okapi.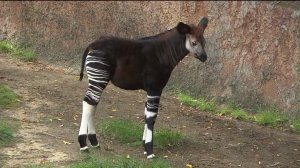 The okapi calf, a male, was born on Aug. 26 and had since been bonding with his mom, Baraka, and his dad, Jamal, behind the scenes at the zoo.
Because of the bold black and white stripes across its front and hind legs, okapis are often mistaken as zebras.
But actually, okapis are closest relatives to the giraffe often go by the nickname "forest giraffe."
A baby okapi will eventually grow a "lustrous, velvety coat of fur," stand up to 6 feet tall and weigh as much as 700 pounds, according to zoo officials.
"This long-awaited birth is particularly special because it's the first okapi we've ever had born here at the zoo," said L.A. Zoo Director John Lewis.
For decades, the L.A. Zoo had been working to build an okapi family. It took 20 years for the zoo to acquire its first okapi — Jamal, the calf's father — from Disney's Animal Kingdom in Orlando, Fla., in 2005.
In 2010, the Griffith Park institution got its second — Baraka, the calf's mother — from the Denver Zoo.
Apparently, the two animals liked each other.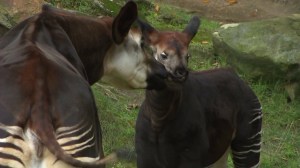 Okapis are endangered; outside of zoos, they are only found in central Africa. Over the last decade, the species' population dropped by 75 percent, leaving an estimated 10,000 okapis in the wild, according to the L.A. Zoo.
Only 85 okapi, including L.A.'s unnamed newborn, live in accredited Association of Zoos and Aquariums zoos across the world.
Visitors can see the okapi calf in his new habitat between 10 a.m. and 2 p.m. daily.