This is an archived article and the information in the article may be outdated. Please look at the time stamp on the story to see when it was last updated.
After three years leading the nation's largest public utility, LADWP chief Ron Nichols announced Thursday that he would resign at the end of the month.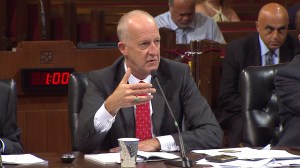 Nichols' resignation as general manager of the Los Angeles Department of Water and Power comes amid ongoing controversies for a utility that has seen many in its 111-year history.
Some $40 million in ratepayer money that was spent by two nonprofit trusts that are run by Nichols and Brian D'Arcy, the leader of DWP's powerful workers union, remains unaccounted for several months after the spending was revealed by the Los Angeles Times.
Alongside Mayor Eric Garcetti, City Controller Ron Galperin announced Wednesday that he would issue subpoenas to determine what happened to the money, the Los Angeles Times reported.
At the same time, a new billing system implemented by DWP sent out as many as 70,000 inaccurate bills, and some customers with automatic withdrawals lost huge amounts to error.
In a two-page letter to Garcetti, DWP's board president and City Council President Herb Wesson, Nichols said his reasons for leaving were personal. He noted that he was hired under Garcetti's predecessor, former Mayor Antonio Villaraigosa.
"I was brought in to lead DWP by the prior administration and I felt it important to stay on board afterward to provide time for the new administration's transition," Nichols said.
In a brief statement that declared voters gave him a "strong mandate … to reform the DWP," Garcetti thanked Nichols for his service. The DWP union — the International Brotherhood of Electrical Workers Local 18 — had backed Garcetti's opponent, Wendy Greuel, in the 2013's mayoral race.
"I'm focused on continuing to reform the DWP to cut costs, improve customer service and increase transparency," Garcetti stated.
Garcetti has not yet announced who Nichols' replacement will be.
Nichols said he had not made "specific plans for a future leadership role" to avoid a conflict of interest.
In 2011, Nichols became LADWP's sixth leader in less than five years, after working as a consultant on energy and water utility issues. He had also worked with the state Department of Water Resources and the California Energy Commission.