This is an archived article and the information in the article may be outdated. Please look at the time stamp on the story to see when it was last updated.
A Lancaster man who was caught on disturbing video abusing his 6-month-old pit bull Daisy pleaded no contest Wednesday to one felony count of cruelty to an animal.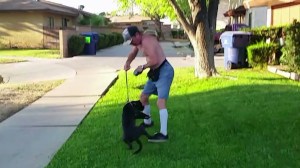 Robert Emmett Martin, 54, was sentenced to five years of probation, 90 days of community service and 24 animal cruelty prevention classes, according to the Los Angeles County District Attorney's Office.
Martin, who entered his plea in the Antelope Valley Courthouse, was also prohibited from having an animal for 10 years.
He had faced up to three years in jail, the DA's office said when announcing the charge on Aug. 12.
Cellphone video shot by a bystander on Aug. 8 showed Martin body-slamming, punching, dragging and throwing the puppy into the street in the 500 block of East Lancaster Boulevard.
The video was turned over to the Los Angeles County Sheriff's Department, which arrested Martin.
Martin hurled racial slurs at the man who took the video, the recording shows.
Daisy was taken in by the Los Angeles County Department of Animal Care and Control, which reported she had no outward injures, according to the AV Times.
She was headed to foster care, the newspaper reported in August.
A restitution hearing for Martin was scheduled for Oct. 2.
Previous Video: