This is an archived article and the information in the article may be outdated. Please look at the time stamp on the story to see when it was last updated.
NEW YORK (KTLA) — The nose gear of a Southwest Airlines jet collapsed after landing at New York's LaGuardia airport on Monday, injuring 10 on board, according to airport officials.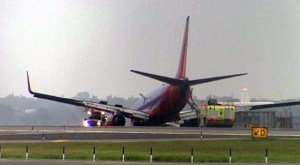 Flight 345 from Nashville touched down on Runway 4 about 5:45 p.m. ET, the Federal Aviation Administration said in a statement.
"The aircraft skidded down the runway on its nose and then veered off and came to rest in a grass area between the runway and taxiway foxtrot," Thomas Bosco, the airport's general manager, told reporters.
Passenger Kathy Boles said she felt a "strong jolt" inside the cabin.
"It was just a bang and a bounce, and then a slam on the brakes and a skidding feeling," Boles told CNN's "Anderson Cooper 360."
The aircraft stopped about halfway down the 7,000-foot runway with the nose of the Boeing 737 resting on the tarmac.
The plane's emergency slides were deployed to evacuate passengers.
None of the injuries were considered serious.
LaGuardia was closed to arriving flights as emergency vehicles surrounded the disabled jet, but the airport was back open for arrivals and departures by 7 p.m., Bosco said.
The incident followed a runway crash of an Asiana jetliner in San Francisco last month that killed three people and injured more than 180 others.
CNN contributed to this report.