This is an archived article and the information in the article may be outdated. Please look at the time stamp on the story to see when it was last updated.
The 5 Freeway was shut down in both directions in the Sun Valley area of Los Angeles for several hours Wednesday afternoon due to flooding and a mudslide.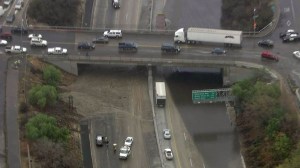 All northbound lanes of the 5 Freeway were closed at Glenoaks Boulevard (map), according to the California Highway Patrol's online incident website. Southbound lanes were closed at Sunland Boulevard.
Only one southbound lane remained closed as of 9:30 p.m., CHP said on Twitter.
The shutdown of a major freeway came just before rush hour and amid the first storm of fall in Southern California.
Mud appeared to have flowed onto the northbound lanes from a service road above, aerial video showed. The debris, rocks and mud in the roadway were reported at 1:55 p.m., a CHP spokesman said.
"Once officers arrived on scene, they encountered large standing water covering all lanes," CHP Officer Juan Galvan said. "It's quite a mess."
He said a water-main break could have caused the flooding and mudflow.
Southbound lanes were blocked by huge puddle of water, while mud covered lanes on the other side of the freeway divider, aerial video showed.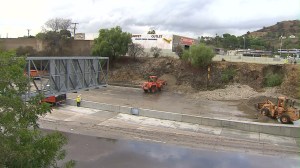 A driver was rescued by firefighters from a vehicle that was stuck in the debris, Galvan said. Aerial video showed a sedan being towed from the scene.
Traffic was backed up for miles in both directions.
An alternate route to the northbound 5 Freeway was the westbound 134 Freeway to the northbound 170, then back to the northbound 5, CHP's Southern Division tweeted.
The alternate route to avoid the southbound closure was the southbound 170 to the eastbound 101 Freeway to the eastbound 134 Freeway back to the southbound 5 Freeway, another CHP tweet stated.
Check back for updates on this developing story.