This is an archived article and the information in the article may be outdated. Please look at the time stamp on the story to see when it was last updated.
While Angelenos prepared to celebrate Cinco de Mayo the LAPD planned to increase patrol vehicles and DUI checkpoints.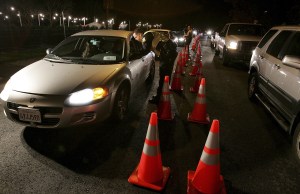 Honoring Mexico's victory over the French at the Battle of Puebla on May 5, 1862, Cinco de Mayo was a tribute to Mexican heritage and pride.
To combat the danger caused by a potential increase in people driving under the influence, the Los Angeles Police Department planned to have more sobriety checkpoints on the Friday and Saturday prior to the holiday, according to a news release.
Saturday checkpoints were located at Cahuenga Boulevard at Broadlawn Drive and Laurel Canyon Boulevard at Oxnard Street in North Hollywood from 8 p.m. to 2 a.m. Sunday.
On Monday, DUI saturation patrols were scheduled to be in the Central area from noon to 8 p.m., in the Southwest area from 5 p.m. to 1 a.m., and the Hollywood area from 5 p.m. to 3 a.m., the release stated.