This is an archived article and the information in the article may be outdated. Please look at the time stamp on the story to see when it was last updated.
A Los Angeles police officer who allegedly pushed and kicked a woman during an arrest after which the woman died has been charged with assault, the Los Angeles District Attorney's Office announced Thursday.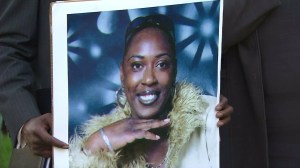 LAPD Officer Mary O'Callaghan, 48, was charged Wednesday with assaulting an arrestee under color of authority in the 2012 incident, the DA's office stated in a news release.
Officers from the Los Angeles Police Department were sent to Alesia Thomas' home in the 9100 block of South Broadway Avenue to investigate a possible child abandonment report on July 22, 2012.
Thomas, 35, was placed under arrest, handcuffed, and had leg restraints on when O'Callaghan arrived to assist officers with putting Thomas into a patrol car, according to the DA's office.
A police cruiser's video camera captured O'Callaghan kicking Thomas in the stomach and groin area and pushing her in the throat, the DA's office release stated.
Once in the patrol car, Thomas lost consciousness and paramedics were called. She was taken to a hospital, where she later died.
LAPD Chief Charlie Beck issued a statement Thursday afternoon that noted detectives "worked closely" with the DA's office in preparing the case against O"Callaghan, whom he said was facing internal discipline that was still pending.
"The officer's actions that day, as seen on the video, did not meet the expectations I have of our officers in the field.," Beck said. " As troubling as this case is, it demonstrates that our system of discovering misconduct is working, and that we will hold our officers accountable for their actions."
"I hope the community recognizes that the act of one officer cannot and should not be an overall reflection of this department," Beck continued.
A coroner's report had found Thomas had cocaine in her system that was likely a "major factor" in her death, the Los Angeles Times reported. The role of the struggle in Thomas death was not possible to determine, the coroner's report stated, and the cause of death was listed as "undetermined," according to The Times.
Officers had been at Thomas' home because she had allegedly abandoned her children, ages 3 and 12, in front of an LAPD station, the Times reported.
Prosecutors did not file involuntary manslaughter charges in Thomas' death, citing insufficient evidence.
An attorney for Thomas' family, Benjamin Crump, believes there is enough evidence to prove that O'Callaghan's actions caused Thomas' death and has called for the video to be released publicly — a demand he first made in December 2012.
"This reignites our demand to have the video released, because there is a first hand eyewitness account, it is the surveillance video that speaks the truth. We will not stop until the truth comes out on behalf of Alesia Thomas' children," Crump said Thursday. "We still need to see video, we believe that whatever they did to her, while in their custody, caused her death."
An attorney for O'Callaghan said in a statement to KTLA that the officer was devastated by the charged.
"I am absolutely shocked that the district attorney moved and chose to file this one count against officer O'Callaghan," attorney Robert Rico told KTLA. "Officer O'Callaghan is absolutely devastated that it has come to this.  As an officer, mother and Marine she is used to defending herself and others, and she will defend herself in the court of law and prove her innocence."
Meanwhile, the president of the officers' union — the Los Angeles Police Protective League — on Thursday said he could not comment on the specifics of this case because he had not seen the video. But Tyler Izen said the charges did not match O'Callaghan's reputation.
"The alleged actions of the officer are incongruous with her reputation as an officer who was known to be diligent, courteous and ethical," Izen said in a statement.
He noted that O'Callaghan had been commended by the department for past "community efforts" and for helping a burglary victim's family at Christmas.
Prosecutors planned to ask that bail for O'Callaghan be set at $35,000.
O'Callaghan was scheduled to be arraigned Tuesday and has been relieved of duty without pay pending an administrative hearing, the Associated Press reported, citing O'Callaghan's attorney Robert Rico.
If convicted, she faces up to three years in state prison.
KTLA's Melissa Pamer contributed to this report.