This is an archived article and the information in the article may be outdated. Please look at the time stamp on the story to see when it was last updated.
An LAPD officer and young girl were transported to a hospital after a traffic collision in Northridge on Sunday, according to authorities.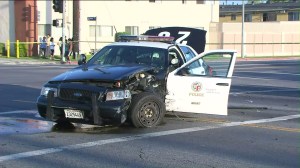 The three-vehicle crash occurred in the 19300 block of Parthenia Street (map) at about 4:40 p.m., Los Angeles Fire Department Public Information Officer Katherine Main said.
The female officer was racing down Tampa Avenue with her sirens and lights on, responding to a call, Capt. Charles Hearn said.
She slowed down while approaching an intersection at Parthenia Street, but a black Audi crashed into the patrol vehicle, Hearn said.
The Audi then spun out and struck a pickup truck, which then collided with a fourth vehicle.
"Driving is actually one of the factors that cause a lot of officer deaths, so in an abundance of caution we're always trying to be very, very safe when we're driving, but traffic is unpredictable at times," Hearn said.
Main originally reported that the officer was the only person transported to the hospital, but Hearn later stated that a 6-year-old girl was also transported to a hospital.
At least five others were injured and treated at the scene, Hearn said.
Traffic was shut down for blocks surrounding the collisions.