This is an archived article and the information in the article may be outdated. Please look at the time stamp on the story to see when it was last updated.
A Los Angeles police officer was shot and wounded Monday when a man walked into the front lobby of the LAPD's West Traffic Division and opened fire with a semi-automatic handgun.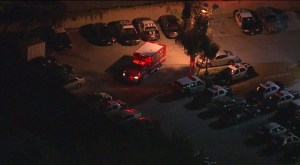 A call of "shots fired" was received at 8 p.m. from the Mid-City building that houses the Wilshire Station and West Traffic Division, according to LAPD Media Relations Officer Sara Faden.
Speaking to reporters outside Cedars-Sinai Medical Center on Monday night, LAPD Chief Charlie Beck said the gunman engaged a male and female officer in conversation, then pulled out a gun and began shooting.
"The male officer was hit… seven times; three in the vest and four times in the extremities," Beck said.
Update: New Details Emerge in LAPD Station Gun Battle in Which Officer Was Shot
Both officers returned fire, Beck said, seriously wounding the gunman.
Beck described the wounded officer as "very, very lucky," saying his luck was augmented by his courage.
"After being hit seven times he returned fire and saved his own life and the life of his partner," Beck said.
The wounded officer and the alleged gunman were transported to Cedars-Sinai Medical Center.
Beck said the wounded officer, a seven-year veteran assigned to the West Traffic Division, was in good spirits.
Just left our #LAPD officer's bedside at the hospital. Two things saved his life: #bodyarmor & #determination. Courageous will to survive.

— Chief Charlie Beck (@LAPDChiefBeck) April 8, 2014
The alleged gunman had surgery and was said to be in critical condition Tuesday morning.
A community city council meeting was underway at the police station when the gunfire erupted, according to a witness who did not want to be identified.
The witness told KTLA that he heard as many as 20 shots, one of which came into the room where people attending the meeting hit the floor.
"We were having elections when just outside the hallway gunshots started firing," the witness said.
No one in the group was injured. They were later escorted out of the building, the witness said.
The bomb squad was checking out the vehicle that police believe was driven by the gunman as a precaution, according to a tweet from LAPD Communications.
This was the second attack on police working at the location.
Last June, a gunman ambushed two LAPD detectives outside the same station.
The undercover burglary detectives were returning to the station in an unmarked car when someone opened fire on their vehicle from behind.
The gunman in the 2013 shooting was never caught.