This is an archived article and the information in the article may be outdated. Please look at the time stamp on the story to see when it was last updated.
LOS ANGELES — Dramatic video showing two men appearing to open fire on a bicyclist as he rode past them was released by Los Angeles police in hopes of generating leads in the case.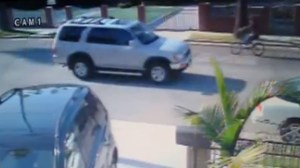 The shooting, which is believed to be gang-related, was reported July 30 around 5:30 p.m. in the 5200 block of Templeton Street, according to the LAPD.
Video of the crime shows two men in a tan Toyota 4Runner SUV drive past the cyclist and then suddenly stop.
The two, who both appear to be wearing baseball caps, then jump out of the SUV and fire their guns, striking the male cyclist, according to the LAPD.
Click here to read the full story on LATimes.com.