This is an archived article and the information in the article may be outdated. Please look at the time stamp on the story to see when it was last updated.
Police had set up a perimeter in the Mid-City area of Los Angeles on Monday evening after a man suspected of driving a stolen car crashed into another vehicle and took off running, authorities said.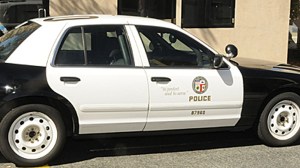 The collision took place at Redondo and Washington boulevards (map), where two people were injured, according to Erik Scott with the Los Angeles Fire Department.
Police had been following the man driving a suspected stolen car about 5:15 p.m. when the driver caused a traffic collision, according to Detective Gus Villanueva of the Los Angeles Police Department.
He took off from the scene running, and a search was being conducted in the area, Villanueva said.
Aerial video showed at least one patient being transported from the scene of a crash.
Check back for updates on this developing story.