This is an archived article and the information in the article may be outdated. Please look at the time stamp on the story to see when it was last updated.
The LAPD is apparently hoping to use the current public fascination with zombies to highlight the growing problem of thefts from vehicles across Los Angeles.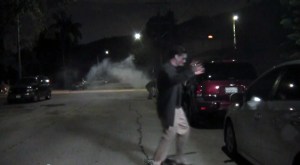 This is how the Los Angeles Police Department's Northeast Division describes its seven-minute video posted to YouTube on Friday: "The zombies are coming. And they want your iPad."
The parody video is a public service announcement specifically warning residents about leaving electronics such as smartphones and tablets in their vehicles, describing the devices as "catnip for zombies."
"We're launching a new zombie-themed, Hollywood-style video campaign designed to spread the word about stopping burglaries from motor vehicles," a post on the LAPD's Northeast Division Facebook page states. "Although the videos are lighthearted and tongue-in-cheek, the message is clear: Lock it, Hide it, Keep it."
Vehicles burglaries are a persistent problem in L.A., the police department states.
"Year to date, 21,000 vehicles have been burglarized in the city of Los Angeles," Capt. Jeffrey Bert said in the video. "If you just hide your valuables, your purses, your iPods, your cell phones, any loose change… if you're a pirate, your bag of jewels… you're going to reduce your chances of becoming a victim."