This is an archived article and the information in the article may be outdated. Please look at the time stamp on the story to see when it was last updated.
Dozens of firefighters were called to a blaze in Sun Valley which appeared to have started in a yard area between several commercial buildings on Tuesday.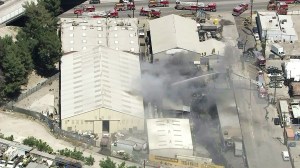 The fire broke out at about 1:10 p.m. at 8637 San Fernando Road (map), according to Katherine Main of the Los Angeles Fire Department.
One of the buildings was partially burned by the fire, but crews appeared to have contained the majority of damage to the yard area, aerial video from Sky5 showed.
The yard was filled with mixed combustibles, including tires, according to Main.
Smoke could be seen rising above the 5 Freeway, located just north of the building.
The flames were extinguished in just over 30 minutes by 88 responding firefighters, Main said.
No injuries were reported in the fire.