This is an archived article and the information in the article may be outdated. Please look at the time stamp on the story to see when it was last updated.
Treasure hunters had one last chance to find some "hidden cash" in Los Angeles on Sunday, as the mystery benefactor behind the scavenger hunt wrapped up his visit to Southern California.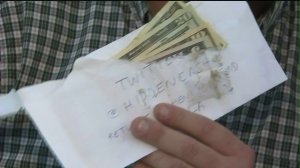 "Getting ready for drops at two locations today before leaving town," a tweet from the @HiddenCash Twitter account stated shortly after 7:00 a.m.
About three hours later, Hidden Cash tweeted out the first clue about the day's hunt.
"Are you ready to play with bubbles today???" the tweet read, with a photo attached of a wad of $20 bills in a bubble bottle.
LA: Are you ready to play with bubbles today??? pic.twitter.com/LZ84RlDVTg

— Hidden Cash (@HiddenCash) June 1, 2014
The first location given was a dog park located near the Hollywood sign, according to a tweet that was sent out around 11:00 a.m.
"Hiddencash playing tourist," the tweet read, with an accompanying photo of the Hollywood sign visible and a bubble bottle filled with cash. "There are 9 bubbles by the K9s (near here!)."
The location turned out to be Lake Hollywood Park, where nine people found the money-filled bottles.
Nine other bottles were tucked away in bushes at Hollenbeck Park in Boyle Heights, where police officers ensured the crowd remained calm during the search.
After Pastor Espinoza and his family found one of the bottles, he said they would use it to "go buy some food."
"We just paid rent and actually stayed without anything, so this is coming in handy," he said.
The final drops were taking place a day after Hidden Cash orchestrated a massive scavenger hunt in Hermosa Beach, where dozens of people found Angry Birds stuffed with money that were hidden in the sand.
Hidden Cash initially came to Los Angeles on Wednesday, five days after the anonymous wealthy donor started the game in San Francisco.
As of Sunday morning, the account had gained more than 411,000 followers on Twitter, while also garnering worldwide attention and spawning a number of copycats.
After leaving Los Angeles, Hidden Cash said on Twitter that he went to Bakersfield's Centennial Park, where he placed five envelopes stuffed with currency.
"San Francisco – we are coming back home," he tweeted later. "Get ready for some EPIC fun! Big plans for next weekend!"
KTLA's Dave Mecham contributed to this report.