This is an archived article and the information in the article may be outdated. Please look at the time stamp on the story to see when it was last updated.
Bolstered by an improving economy, Los Angeles International Airport handled more than 17.8 million foreign travelers in 2013, a record for the West Coast gateway that struggled for years to recover that portion of its market.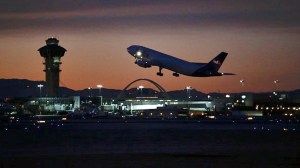 The previous peak for the nation's third busiest airport was about 17.5 million international passengers in 2005, but a global economic slowdown triggered a steep decline in air travel and interrupted further growth.
Gina Marie Lindsey, executive director of Los Angeles World Airports, the operator of LAX that announced the passenger figures, attributed the record to an improving worldwide economy, especially in Asia, and a modest strengthening of the Southern California economy.
Click here to read more at latimes.com.