This is an archived article and the information in the article may be outdated. Please look at the time stamp on the story to see when it was last updated.
Family, friends and others gathered at a candlelight vigil Wednesday night in Lake Forest to remember Blaze Bernstein, the 19-year-old University of Pennsylvania student whose body was found in an Orange County park a week after he was reported missing.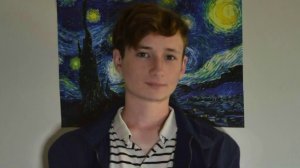 Bernstein, from Lake Forest, was home from college when he went to meet up with a friend at Borrego Park in the Foothill Ranch area last Tuesday night. His parents reported him missing the following day after he failed to return home.
After an exhaustive, nearly weeklong search that included the use of drones, officials from the Orange County Sheriff's Department confirmed Wednesday that they recovered Bernstein's body the previous day, in some brush on the outskirts of the park.
Speaking at the vigil Wednesday evening, Bernstein's mother thanked detectives and search crews for their tireless efforts in looking for her son.
"They gave up sleep, they gave up food and we're so grateful for them tonight," Jeanne Pepper-Bernstein said.
Earlier, she stood beside her husband Gideon as he delivered a statement on behalf of the couple at a news conference after their son's death was announced.
"Blaze was a brilliant, colorful and charismatic man who shined light on all of the lives of the people and communities he touched," Gideon Bernstein said. "Needless to say our family is devastated by the news. We — like so many of you around the world — loved Blaze, and we wanted nothing more than to seek his safe return."
Hundreds of people showed up to remember the slain college student at the vigil, which began around 6 p.m. and was held in the park where Bernstein was found dead.
A large crowd gathered near a picnic table where a makeshift memorial of candles, flowers, balloons, stuffed animals and photographs had been placed, video from the scene showed.
"He was an amazing kid, he made everybody smile on the bus," one friend, Matt Stevens, told KTLA.
Friends who spoke remembered Bernstein as a caring individual, and an especially talented writer and cook.
"Just a tremendous cook, and what an awesome cook he was. Just really cared for our children," one man said.
The night Bernstein disappeared, he had made the family a homemade turkey dinner with butternut squash soup, his mother recalled last Friday as she and her husband pleaded publicly for their missing son's safe return.
A cause of death is not yet known as investigators await the results of an autopsy that was conducted Wednesday. However, based on the condition of the body, investigators believe the teen was the victim of a homicide, according to sheriff's Lt. Brad Valentine.
A search was served in Newport Beach Tuesday night, but thus far, authorities haven't made any arrests or identified a suspect in the case, he said.
Persons of interest who haven't been publicly identified are also part of the investigation, according to Valentine.
In memory of the teen, the grieving family has set up the Blaze Bernstein Memorial Fund at the Jewish Community Foundation Orange County. The money will go to organizations that help children and family in needs, including the Orangewood Foundation, according to a post on the Facebook group "Help Us Remember Blaze Bernstein."