This is an archived article and the information in the article may be outdated. Please look at the time stamp on the story to see when it was last updated.
At least one person died in a plane crash in the hills northwest of Ventura on Thursday, officials said.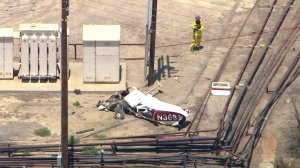 The Ventura County Fire Department received reports of a possible plane crash just before 12 p.m. It was unknown whether the victim was male or female, according to Steve Swindle, a public information officer with the Ventura County Fire Department.
The plane went down near the 101 Freeway and Taylor Ranch Road under unknown circumstances, said Allen Kenitzer, a spokesman for the Federal Aviation Administration.
FAA registry information for the plane indicates it is a Cessna 180 — a fixed-wing, single-engine aircraft — that was manufactured in 1954. The plane is registered to an owner with an address in Thousand Oaks.
Rescue crews were searched for hours to locate a possible second aircraft in the rugged terrain based on witness reports, but by evening were refocusing their investigation on the one aircraft.
Witnesses at Solimar Beach told authorities they saw an aircraft go down behind the mountains on the coastline, Swindle said.
Aerial footage from the scene showed one small aircraft that was completely destroyed. Parts of the wreckage were scattered about an industrial oil field in the hilly area above the 101 Freeway, as well as on the beach nearby, according to Swindle.
"We've secured that debris, and we have National Transportation Safety Board that's on scene," Swindle said, in reference to the wreckage on the beach. "They're going to go take a look at it and see during their investigation if it is actually part of the aircraft that did crash."
A witness who had been fishing nearby told KTLA he first saw the aircraft flying very low along the coastline before, a short time later, a piece of aluminum landed not far from where he and his wife were sitting.
No structures were damaged, and no other injuries were reported.
The National Transportation Safety Board and Federal Aviation Administration were investigating the incident but said it was too early to determine what led to the crash.
KTLA's Jennifer Thang contributed to this report.
One aircraft crash confirmed in hills NW of Ventura with one DOA. Reports of possible second aircraft being investigated @VCFD

— VCFD PIO (@VCFD_PIO) June 1, 2017
#SolimarInc: Small aircraft crash, 1 confirmed fatality. NTSB enroute. Investigation will continue throught the night. @VCFD

— VCFD PIO (@VCFD_PIO) June 1, 2017