This is an archived article and the information in the article may be outdated. Please look at the time stamp on the story to see when it was last updated.
LOS ANGELES — Steven Spielberg's historica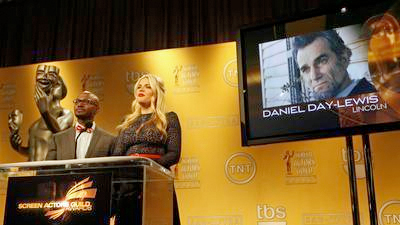 l biography "Lincoln," the musical epic "Les Miserables" and the quirky romantic comedy "Silver Linings Playbook" dominated the Screen Actors Guild Award nominations Wednesday morning, receiving four nominations apiece.
"Lincoln" scored nominations in the lead actor category for Daniel Day-Lewis, supporting actress for Sally Field, supporting actor for Tommy Lee Jones and best ensemble in a motion picture.
"Les Miserables," which opens Christmas Day, earned nominations for lead actor Hugh Jackman, supporting actress Anne Hathaway, for best acting ensemble and best stunt ensemble.
And "Silver Linings Playbook" picked up nominations for lead actor Bradley Cooper, actress Jennifer Lawrence, supporting actor Robert De Niro and best ensemble.
Arguably the biggest winner of the day, however, was 77-year-old Maggie Smith.
The two-time Oscar-winning British actress scored the most SAG nominations Wednesday — four in all.
She picked up two nods — best supporting actress and ensemble — for the feature film "The Best Exotic Marigold Hotel," a dramedy about a group of British retirees who move to a hotel in India.
She also picked up best supporting and ensemble nods for playing the officious dowager in "Downton Abbey."
The nominations come during one of the mostly closely watched weeks of the awards season: It's literally make-or-break for Hollywood and the films and performers who are jockeying for recognition — and possibly Oscar gold.
Monday kicked off with the announcement of nominations for the Critics' Choice Movie Awards, followed quickly by Wednesday's SAG nominations.
In just 24 hours, the Golden Globe nominations are to be announced.
When the dust settles, those films and performers that emerge are instantly catapulted to front-runner status leading up to the Academy Award nominations, which are to be announced Jan. 10.
Although SAG winners often go on to win the Academy Award, it's not a given.
Just this year, Viola Davis won the SAG Award for best actress for "The Help," but Meryl Streep took home her third Oscar for "The Iron Lady."
In other film nominations announced Wednesday, "Argo" rounded out the ensemble nominations, with Alan Arkin also scoring a supporting actor nod.
Joining Day-Lewis, Cooper and Jackman in the lead actor category are John Hawkes for "The Sessions" and Denzel Washington for"Flight."
Notably missing from the list of nominees was Joaquin Phoenix for "The Master." (Just earlier this week, Phoenix had won the L.A. Film Critics Assn. best actor honors.)
Vying with Lawrence in lead actress field are Marion Cotillard for "Rust and Bone," Jessica Chastain for "Zero Dark Thirty," Helen Mirren for "Hitchcock" and Naomi Watts for "The Impossible."
Rounding out the supporting categories are Javier Bardem for "Skyfall," Philip Seymour Hoffman in "The Master," Helen Hunt in "The Sessions" and Nicole Kidman for "The Paperboy."
Not making the list: Amy Adams for "The Master," a role that earned her a supporting actress honor from the L.A. Film Critics.
Unlike other honors, the Screen Actors Guild Awards are strictly for the performers — there are no nominations for directors or screenwriters, for example.
The SAG Awards also honor performances in TV dramatic and comedy series, as well as movies and miniseries. There were very few surprises in the TV nominations.
The casts of the dramas "Boardwalk Empire," "Breaking Bad," "Downton Abbey," "Homeland" and "Mad Men" were honored with nominations.
On the comedy side, there were six nominees due to a tie: "30 Rock," "The Big Bang Theory," "Glee," "Modern Family," "Nurse Jackie" and "The Office."
Competing for lead actor in a drama series are Steve Buscemi for "Boardwalk Empire," Bryan Cranston for "Breaking Bad," Jeff Daniels for "The Newsroom," Jon Hamm for "Mad Men" and Damien Lewis for "Homeland."
Lead actress nominations went to Claire Danes for "Homeland," Michelle Dockery for "Downton Abbey," Jessica Lange for "American Horror Story: Asylum" Julianna Margulies for "The Good Wife," and Smith for "Downton Abbey."
Vying for lead actor in a comedy series are Alec Baldwin for "30 Rock," Ty Burrell and Eric Stonestreet for "Modern Family," Louis C.K. for "Louie" and Jim Parsons for "The Big Bang Theory."
In the lead actress in a comedy series, nominations went to Edie Falco for "Nurse Jackie," Tina Fey for "30 Rock," Amy Poehler for "Parks & Recreation," Sofia Vergara for "Modern Family" and Betty White for "Hot in Cleveland."
Nominated for lead actor in a television movie or miniseries are Kevin Costner and Bill Paxton for "Hatfields & McCoys," Woody Harrelson and Ed Harris for"Game Change," and Clive Owen for "Hemingway & Gellhorn."
Competing for lead actress in a television movie or miniseries are Kidman for "Hemingway & Gellhorn," Julianne Moore for "Game Change," Charlotte Rampling for "Restless," Sigourney Weaver for "Political Animals" and Alfre Woodard for "Steel Magnolias."
The 19th Screen Actors Guild Awards presentation is to be carried live on TNT and TBS on Jan. 27 from the Shrine Auditorium & Exposition Center in Los Angeles.
As previously announced, Dick Van Dyke is set to receive the guild's lifetime achievement award.
-Los Angeles Times