This is an archived article and the information in the article may be outdated. Please look at the time stamp on the story to see when it was last updated.
DUNLAP, Calif. — The Fresno County wild cat sanctuary where an intern was mauled to death by a lion last week re-opened to the public on Sunday.
Volunteers and staff members at Project Survival's Cat Haven observed a moment of silence in memory of 24-year-old Dianna Hanson.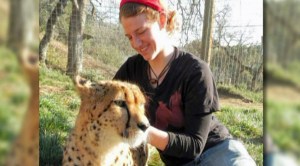 Hanson was killed at the facility last Wednesday when a four-year-old male lion named Cous Cous attacked her.
Another volunteer tried to lure the lion away from Hanson, but by the time authorities reached her, she was dead. The cat was shot and killed by sheriff's deputies.
Members of Hanson's family have said they believe her death was an accident.
Hanson's mother, Donna, said she supports the decision to re-open the cat haven.
Donna Hanson said she wants the sanctuary to "continue their mission of saving my daughter's beloved creatures."
A preliminary autopsy suggested that Hanson died quickly from a fractured neck and "some suffocation," said Fresno County Coroner David Hadden.
The neck injury appeared to have come from a swipe of the lion's paw.
The body had "numerous claw marks and bite damage" elsewhere, probably inflicted after the initial swipe, Hadden said.
Project Survival's Cat Haven is located about half a mile off the main road to Kings Canyon National Park.
The nonprofit sanctuary houses big cats including lions, tigers, cheetahs and jaguars, and gets about 10,000 visitors a year.
-KTLA/Los Angeles Times