This is an archived article and the information in the article may be outdated. Please look at the time stamp on the story to see when it was last updated.
LEON, Mexico (KTLA) — Several people were rushed to the hospital during a Jagermeister sponsored pool party after organizers poured liquid nitrogen into hotel pool.
The liquid nitrogen mixed with the pool's chlorine, creating a toxic fog that left one man in a coma and sickened eight others.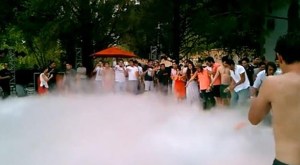 The dense cloud created by the chemicals made breathing difficult and prevented rescuers from seeing other party-goers who were unconscious in the water.
Most of the injured were released from the hospital, but a 21-year-old man remained in a coma.
Local authorities were investigating the incident to determine if charges would be filed.
In a statement,  Jagermeister stated that the company was aware of the incident, which was currently being investigated by officials at Jagermeister's headquarters in Germany.
'We are liaising with the responsible distributor in Mexico who is working with the event organizers and the investigating authorities to understand the full circumstances surrounding the events last Saturday night,' the statement read.