This is an archived article and the information in the article may be outdated. Please look at the time stamp on the story to see when it was last updated.
UPDATE: The $1 million prize in the Doritos "Crash the Super Bowl" competition was awarded to the maker of "Time Machine," the finalists learned on "Good Morning America" Monday morning. The Orange County couple's "Cowboy Kid" was runner-up.
An Orange County couple's Doritos commercial that aired during the Super Bowl on Sunday was one of two final winning entries in the company's annual "Crash the Super Bowl" competition, Doritos announced.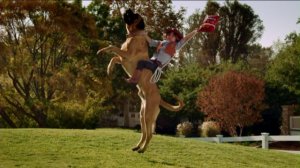 The commercial, called "Cowboy Kid," was made by Amber and David Gill of Ladera Ranch. It was produced on a $5,000 budget with a crew of 30 friends, they said.
In the ad made by the Gills, a mom a mom asks her two kids to help her bring the groceries in the house. When they refuse, she responds, "Guess you don't want Doritos."
Both kids then rush the car to get the chips. A 5-year-old boy riding a large dog ultimately prevails after he lassos the package away from his brother.
"I was inspired to make this commercial because I have two boys of my own," Amber Gill told KTLA last month. "I thought that just the theme of it could be hilarious. I thought people could relate to it."
David Gill acknowledged after the ad was named one of five finalists that the competition was fierce.
"These ads are phenomenal," he said.
The Gills' commercial aired during the fourth quarter of the Super Bowl.
Doritos tweeted that the ad was one of two winners shortly before 7 p.m.
Its a Nacho cheese shoot out, @Vote4Cowboykid is one of the #doritos Crash the super bowl winners! Check it out here http://t.co/4XROXAxvOs

— Doritos (@Doritos) February 3, 2014
The other winning ad, which also aired, was called "Time Machine." It was made by an Arizona man.
The winning prize for the competition was $1 million and the opportunity to work on the next Avengers movie.
KTLA's Kacey Montoya contributed to this report.