This is an archived article and the information in the article may be outdated. Please look at the time stamp on the story to see when it was last updated.
Local musician Wally Welch has been reunited with his 1966 Rickenbacker 360 guitar nearly two decades after it was stolen, along with all of his concert equipment, from a storage unit.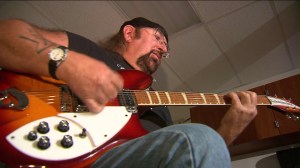 Welch never gave up searching for what he called his "baby" and his persistence paid off.
Two weeks ago, Welch found his guitar up for auction on eBay.
Courtney Friel reports from Stanton for the KTLA News at 10 on Wednesday, Oct. 9, 2013.