This is an archived article and the information in the article may be outdated. Please look at the time stamp on the story to see when it was last updated.
A man was killed and two other people were critically injured in a shooting in San Fernando Friday afternoon, and the gunman remains at large, according to the Los Angeles County Sheriff's Department.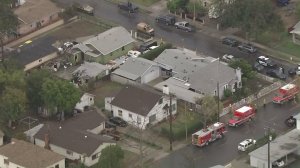 The incident was reported about 2 p.m. near the corner of Fourth and Harps streets.
A man was pronounced dead at the scene and another man and a woman were critically injured, the Los Angeles Times reported.
Aerial video from Sky5 showed police cars and Los Angeles Fire Department ambulances surrounding a house in a residential area of the city.
Police also surrounded another area near the shooting, video from the scene showed. A search for the gunman continued into the evening hours and no arrests had been made as of 6 p.m.
The Sheriff's Department was assisting the San Fernando Police Department in the incident. The Los Angeles Fire Department also responded.
A man at the scene told KTLA that the shooting occurred at his house. He said his daughter was inside their house when she heard gunshots. She then went outside and saw a man on the ground and bleeding and she called police.