This is an archived article and the information in the article may be outdated. Please look at the time stamp on the story to see when it was last updated.
A suspect wanted on suspicion of a robbery and a homicide earlier this week was fatally shot by police in Van Nuys Wednesday morning, according to the LAPD.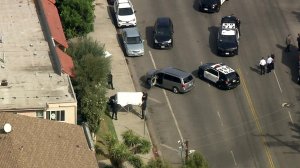 Undercover Los Angeles Police Department officers in plain clothes were conducting surveillance on the person, described only as a black male, in the area of Kester Avenue and Burbank Boulevard early Wednesday, Sgt. Barry Montgomery said. The location is on the border with Sherman Oaks. About 10:20 a.m., officers tried to take the suspect into custody when the shooting occurred. The suspect was declared dead at the scene and a handgun was recovered, Montgomery said. Police have not released any other identifying information about the suspect, but Montgomery said he was a resident of Van Nuys. The sergeant also did not elaborate on whether or not the suspect fired at officers. It is unclear how many officers fired their weapons, but none were injured in the shooting. "It simply went really bad," Montgomery said about the police shooting, without elaborating. Officers who were involved in the incident were being interviewed and detectives are conducting an investigation to piece together what happened, Montgomery said. Later, the sergeant said the suspect was wanted in connection with two separate crimes that occurred on Monday: a liquor store robbery near the same intersection where Wednesday's shooting occurred, and a
homicide along the 14600 block of Burbank Boulevard
in the Sherman Oaks area. Antonio Centeno Rodriguez, 52, of Panorama City died at the scene of Monday's shooting, Los Angeles County Department of Medical Examiner-Coroner's officials said.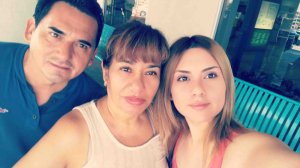 He was killed while on his lunch break at work, daughter Betzabeth Centeno wrote on
a memorial page for her father
. He also left behind a wife. Rodriguez migrated to the U.S. from Mexico in 2001, "to provide a better life for my mother and I, whom he leaves behind," Centeno wrote. Police have not disclosed a motive in the killing.
KTLA's Brian Day contributed to this report.