This is an archived article and the information in the article may be outdated. Please look at the time stamp on the story to see when it was last updated.
Health officials on Saturday stressed the importance of hand-washing as they addressed the E. coli infection that killed a 2-year-old boy and sickened three other children after visiting the San Diego County Fair at the Del Mar Fairgrounds earlier in June.
The toddler was at the fair on June 15 and showed signs of illness four days later, Dr. Eric McDonald said during a news conference. He heads epidemiology and immunizations services for San Diego County.
The boy was taken to the hospital and died on June 24 from kidney complications due to Shiga-toxin-producing E. coli, McDonald said.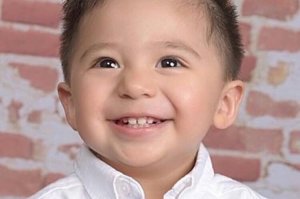 A GoFundMe page shared by a family spokesperson identified the boy as Jedidiah King Cabezuela, KTLA sister station KSWB in San Diego reported.
"I'm not mad at them," the child's great uncle, Ed Sandford, said of the fair officials. "I think this has had the potential to happen probably for a while. A family should not have to worry about that. You're there to have a good time."
A 9-year-old boy and two girls ages 13 and 11 also fell ill after going to the fair between June 8 and 13. None were hospitalized, but one of them is currently receiving medical treatment as an outpatient, McDonald said.
All four patients had contact with animals either at the petting zoo or other parts of the grounds, and there is no indication that any of them consumed the same food, McDonald added.
Officials closed the zoo when they learned about the cases on Friday, according to Del Mar Fairgrounds. The public's exposure to the animals will be restricted until the fair closes on July 4.
Crews have been moving the animals out of the grounds and sanitizing all enclosures, said Katie Mueller, deputy general manager of the 22nd District Agricultural Association, which operates the fair.
There are several hand-washing stations throughout the premises, and extra signs have been put in place to remind people to use them, she said.
Although hand sanitizers are likely effective against bacteria, the best way to avoid infections is washing with soap and water in the amount of time it takes to sing "Happy Birthday" twice, McDonald said.
Those infected could experience severe abdominal cramps, watery or bloody diarrhea and vomiting. Symptoms typically develop one to 10 days after being exposed to E. coli, McDonald said.
Timothy Fennell, CEO of the 22nd District Agricultural Association, said such E. coli infections have not been linked to the San Diego County Fair in the 27 years he's worked there.
"Animals do relieve themselves—there is waste," Fennell said. "Someone, potentially a young child could touch it, could walk in it and get it in their sneakers. It's hard to say at this point."
He said he hopes people would continue to come to the fair until it closes on Thursday.
"My grandchild is going to be here today," Fennell said. "My grandchild is a little older than a year and a half… I'm very confident that the fair is safe and secure."
Mueller, the deputy general manager, said the 2-year-old's death has been devastating to the staff and that their thoughts and prayers go out to his family.
Officials with the  O.C. and L.A. County fairs, which open on July 12 and Aug. 30, respectively, echoed the sentiment. They also emphasized the precautionary measures that are in place ahead of the weeks-long events.
"With all attractions featuring animal interactions, we follow CDC and state guidelines urging hand-washing and provide convenient hand-washing stations," L.A. County Fair spokeswoman Renee Hernandez told KTLA.
O.C. Fair officials said they're reviewing safety protocols, which include providing accessible hand-washing stations that are monitored and serviced throughout the day. They're also hiring more staff members to maintain the cleanliness of the grounds and remind guests to wash their hands.
"The safety and protection of our guests is the No. 1 priority of the OC Fair," Kathy Kramer, CEO of the OC Fair & Event Center, said in a statement.
"We will redouble our efforts to educate everyone on our fairgrounds, including fairgoers, about the absolute importance of hand washing whenever anyone is in an animal area," Kramer added. "Animals are an important part of our agricultural heritage and we want people to continue to learn about them in a safe manner."