This is an archived article and the information in the article may be outdated. Please look at the time stamp on the story to see when it was last updated.
HOLLYWOOD, Calif. (KTLA) — One person was hospitalized in critical condition after a shooting at a popular Hollywood nightclub.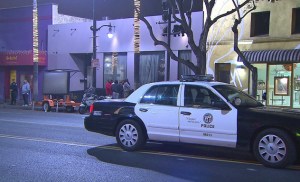 It happened around 1 a.m. at My Studio, located at 6623 Hollywood Boulevard, near Cherokee Avenue.
A 22-year-old male was hospitalized in critical but stable condition with a single gunshot wound to the upper torso, according to police.
Investigators said they believe they are looking for one suspect.
They did not have a description of the suspect or the getaway vehicle he was seen jumping into after the shooting.
Officials said they believe the shooting was sparked by some kind of an argument.
"There was some kind of an altercation inside the club, resulting in a shooting that also occurred inside the club," said LAPD Sgt. Mark Ro.
"There's cameras outside of the club for sure, and I believe there's cameras inside. We're working with the club management to get ahold of whatever video footage there is," he added.
The club is owned by the well-known entertainment group SBE. Police said they were being extremely cooperative.
Police said it may have been gang-related. LAPD detectives and gang units were working the case.
Witnesses said the club was packed at the time of the shooting.
"We were in the club, we heard the shots, everybody hit the floor," witness Michael Lewis recalled.  "It was crazy. People were falling, it was pandemonium."
Anyone with information is asked to contact the LAPD's Hollywood Division.