This is an archived article and the information in the article may be outdated. Please look at the time stamp on the story to see when it was last updated.
A fire broke out late Thursday night at an apartment building in the city of Orange, leaving one person dead and another in critical condition, officials said.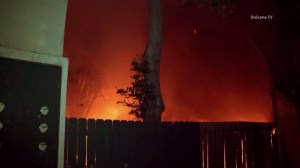 Firefighters were dispatched at 11:16 p.m. to the Santiago Apartments in the 200 block of West Lincoln Avenue (map), said Capt. Casey Fieldhouse of the Orange City Fire Depatment.
After the first crew to arrive at the scene reported heavy smoke and flames coming from the structure, a battalion chief upgraded the response to a second alarm and requested additional units, Fieldhouse said.
An elderly man was pronounced dead at the scene after being found in one of five units that were damaged.
A second victim, an elderly female resident who suffered critical burn injuries, was treated at the scene and then taken to UC Irvine Regional Burn Center, the Fire Department said.
One firefighter suffered a minor injury that did not require transport to a hospital.
Two apartments were heavily damaged by the fire, and three others sustained "smoke and light drywall damage."
The blaze was extinguished within 30 minutes by 55 firefighters from the Orange, Anaheim and Fullerton fire departments and the Orange County Fire Authority, according to Fieldhouse.
The cause of the fire was under investigation.